Jet Storm & the Cyclones
(l to r) Dave Dent, Dave Pickersgaill, Pete Kelly, Ken Eager, Alf Tunstall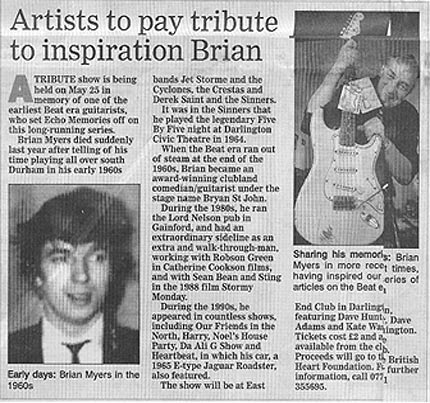 We were recently contacted by Peter Murdie (pictured here with Bruce Welch of the Shadows) who kindly provided the following info and pictures.
Dear Alan ,
I saw your site and wanted to give you more information,
articles, pictures ect as I was guitarist and member of Jet Storme and
the Cyclones from 1961 to 1962.
My closest friend and to whom I am deeply indebted, Brian Myers who taught me a lot and who I loved like an older brother.,I am sure would have still been playing his Ice Blue
Fender Stratocaster. I was there at Northallerton Town Hall that foggy
November night in 1962 when he first took it out of its case and played it live, We had a fantastic night, and what a sound he got out of that Strat ! I was playing a Vox Duo Tone guitar,as rhythm guitarist.
A recent pic with Peter and Jet storm (Pete Kelly)