Kalvins
Info kindly supplied by Dennis Trowbridge, the lead guitarist who formed the group in the 60's
The Kalvins came into being in the late 50's when Dennis Trowbridge, Tony Endean, Tony Jowett and a couple of others (whose names I forget) got together to mess around with guitars…. Within a few months only Tony Endean myself were left so we recruited a couple of other guys… George on Rhythm and Terry Popple on drums and started to do a few gigs. The very first was at a nursing home in Guisborough, I think most of the residents were deaf but they still clapped!!
Then I dumped my aging Hofner guitar and replaced it with a red Fender Stratocaster. We had arrived! (My dad lent me the money – 168 guineas from Hamilton's)
Then through contact with Brian Naylor's (Astoria Manager) sister, we managed to get a few bookings at the Astoria in Middlesbrough. We were the very first live group to play there. Still have a few pictures of this period. (in colour!) That gig lasted several months, was great fun, and led to many other bookings. Eventually we were playing 4 or 5 nights most weeks. More personnel changes saw Albert Smith (ex Blue Caps) come and go until the final line up was established as Myself on lead, Ian Morrison playing Rhythm, Les Bennett on Bass, and Decca Carr on drums…that's how it stayed until one night after a really poor gig at the Maison in Stockton we all had a big bust up!! Then to top it all someone ran into our van and smashed the back door. I'd had enough! I dropped all the guys off together with their gear. ( and some of mine – one of which was a Binson Baby echo, in anger)
The guys did try to talk me into going back but I refused.. I was a stubborn old beggar!
Later that year I got married (1966) and sold my red Fender Stratocaster back to Hamilton's music store for a mere £80, which I used to buy a half set of golf clubs. I never touched a guitar for more than 30 years, when my daughter said she wanted to learn. That was easy, she needed a Fender Stratocaster… she ended up with a red Squire Strat, that we still have. She never did learn to play, but I really enjoyed myself. I recently got a mini Vox Valvetronix amp together with a brilliant digital echo and started playing some old Shadows stuff. Just about to get hold of a '62 re-issue Japanese Fender Strat and sell the squire.
I put the Kalvins on our family web site http://homepages.nildram.co.uk/~trobo/ and have had lots of emails from old fans and old group members, most notably Ian Morrison and Les Bennett.
Dennis Trowbridge – (who sadly passed away in 2007)
Line up (l to r)
Ian Morrison (Rhythm guitar and vocals) Les Bennet (bass guitar) who later played with the Blue Caps, Dennis Trowbridge (Lead guitar and vocals) and Decca Carr (drums)
It was taken (he thinks) in a Community Centre at Acklam, Middlesbrough
Taken at the Coatham Hotel. Redcar with vocalist Albert Smith (ex Blue Caps)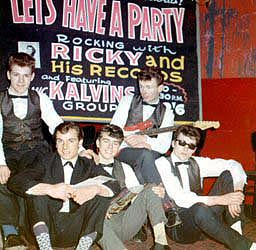 Three pics taken at the astoria Ballroom, Middlesbrough in 1963 where the Kalvins were resident for a few months
Line up was Dennis - George Kitching - Tony - and terry Popple on drums who is hidden from view
Does anyone remember the name of the vocalist -(the one with the bonny socks)
(Further info kindly supplied by George Kitching - the vocalist in the is Colin Stokes)
The Kalvins also used to alternate with the Panthers at the Maison de Danse in Stockton