Panthers
another very well known Teesside group of the era
More pics from the wonderful days of black and white kindly supplied by founder member Rowland Taylor who takes up the story:
In 1960 or thereabouts Neil Kendrew and I started practicing guitar in the garden shed. We had several attempts at getting a band together and things started to come together when we linked up with Jeff Beall and Brian Fletcher. A few more personnel changes and John Lowe joined us on the drums. Things happened quickly now and we had plenty of local gigs. We got involved with Billingham Synthonia Youth Club as a 'resident' Group (that's what bands were called in those days) and they entered us in a competition to find the Rhythm Group of the Year (in association with Frankie Vaughan's National Association of Boys Clubs). We went through several heats ending up at the final at The Royal Festival Hall London, and we WON!
Flushed with the success we decided to give it a go and turned pro in Jan 1964.
We had a fantastic time touring the country during which time we played support to many 'names' of that time, Herman's Hermits, Freddie and the Dreamers, The Merseybeats, The Mindbenders, Jess Conrad, John Leyton, Wee Willie Harris, Mike and Bernie Winters, The Alex Harvey Band, Zoot Moneys Big Roll Band. We had a name change to The 1234Five to avoid conflict with The (Liverpool) Panthers. We also toured Scotland as The Bellairs backing group to Dave Adams when Brian left to go back to Whessoe.
After approx.10 months, we found we could not make a living at it and decided to call it a day. Jeff and John left the band and went to pursue careers in Electrical Engineering and Teaching.
Then Brian rejoined the band and we had several changes of style and re focused as a pop rock band with Steve Bell as drummer, Brian on vocals and guitar, Neil on bass and Myself on lead guitar. This lineup was called Teesside Panthers and continued well into the late seventies. Brian left again to pursue a solo career. We brought in Dave Barrow on Guitar and vocals for a while. Then Neil, Steve and I did a 60s revival Trio as Three Piece Sweet, until, having come full circle, Neil and I ended up as a Duo, Major Minor and finally hung up our Stage Suits in the late 1980s.
However it doesn't end there: Neil, Myself and John (our original drummer) got together to do some home recordings of the songs and tunes we used to play back in the early sixties. That was just over a year ago and now we have great fun trying to reproduce and record the sounds of that era. The highlight of this so far was a reunion with our Bass player from the sixties - Jeff.
We played a few Shadows numbers we hadn't played together for 42 YEARS.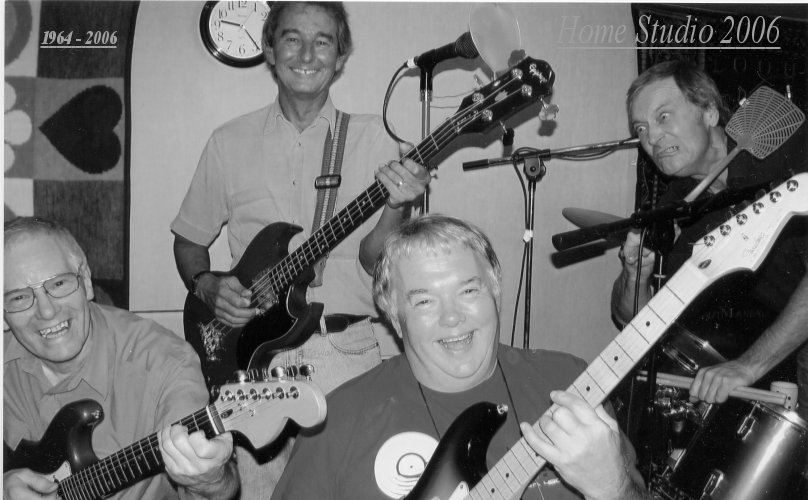 Although Jeff is not directly involved anymore (regular e-mail contact, sole southern agent and external quality controller i.e nit-picker supreme) the other three of us are enjoying the trip down memory lane.
The saga of the PANTHERS may well continue indefinitely.
Rowland Taylor (Tal)